The City of Davis is the epitome of bicycle friendliness. Known as one of the best bicycling towns in the United States, it has a multitude of programs and opportunities for bikers both serious and casual. This page provides links to Davis' many bicycle programs, events, classes, maps, and general information.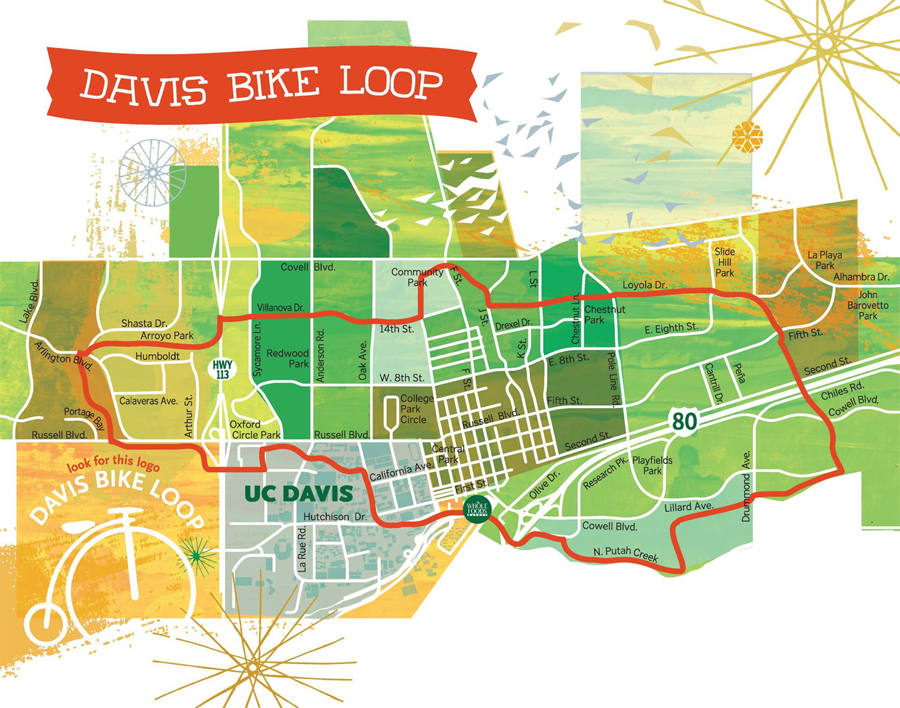 The Bicycle Program maintains and encourages the popular and beneficial use of the bicycle as an important mode of transportation to, from and on campus by providing the campus community with a safe, secure, and efficient cycling environment in response to customer needs and expectations.
In 2017, UC Davis hosted the International Cycling Safety Conference which brought researchers, governments, and practitioners from around the world to discuss all aspects of bicycling safety.
The Bike and Pedestrian Program in Davis seeks to ensure all people who live, work, study, or farm in Davis know all of their options for traveling around Davis and encourages the use of bicycles and walking
The Davis Bike Loop is an approximately 12-mile long route through The Greenbelt that passes through most of the major pieces of bicycle infrastructure in town. The route was chosen to be safe and pleasant for walking, jogging, and bicycling, and exists for riders of all levels.
The comprehensive City of Davis Bike Map shows routes covering over 100 miles of bike paths, lanes and trails. This map provides useful Davis bicycling information to the public, as well as a comprehensive map exhibiting the different bicycling paths and roads one can use.
A web-tour of many unique bike infrastructure elements in the City of Davis. This work was presented at the 2021 California Geographical Society (CGS) Conference by Ryan Millar.
The Davis Downtown Bicycling in Davis webpage provides useful information on the history of and resources for bicycling in Davis, including bike shops, clubs and services, bike safety, and more.
The City of Davis, along with other community partners, wants Davis residents and visitors to get around Davis stress free. GettingAroundDavis.org provides an interactive map of Davis and strives to make traveling stress free by providing information on where to bike and park, where to get transit, and how to best travel on foot.
The Complete Guide to Cycling in Davis is a comprehensive collection of information on bicycling in Davis. It includes general information, cycling history in Davis, cycling events, and describes the multiple bicycle resources and programs/organizations within Davis.
Biking with Confidence is a new bike education class offered by the City of Davis. This class provides instruction on how to ride a bike in traffic, the rules of the road, and tips to become a more predictable rider.
The Davis Bike Collective is a volunteer-run nonprofit community bicycle organization. They provide a public DIY shop where folks share tools, skills, and knowledge about bike maintenance and repair. Their aim is to empower confident and committed cyclists through education and community building, and to encourage more cyclists by making bikes and bike maintenance, fun, safe, and accessible for everyone.
The Bike polo club plays in Davis, California and runs a number of regular pick-up days throughout the week where all levels of players are welcome.
The Davis Bike Club is a nonprofit organization dedicated to cycling and cycling-related activities. Based in Davis, membership has a wide variety of cycling interests and abilities. The Club hosts a variety of rides and events, including recreational and family rides, multi-day tours, randonneuring and ultra-distance events, and racing.
The UC Davis Cycling Team is a co-ed sports club open to both undergraduate and graduate students. The team provides coaching, sponsorship, and a rewarding community to its members in an effort to provide all the tools a successful bike racer could need.
The mission of this non-profit organization is to encourage and promote bicycling, improve infrastructure, influence policy, and advocate for a vibrant bicycle culture in Davis.
This family-oriented bike ride occurs every May, showcasing the Davis Bike Loop's proximity to schools. This event encourages bicycling amongst families and provides awards and prizes to those who participate.
California Bicycle Coalition's mission is to advocate for equitable, inclusive, and prosperous communities where bicycling helps to enable all Californians to lead healthy and joyful lives.
May is National Bike Month, sponsored by the League of American Bicyclists and celebrated in communities from coast to coast. Established in 1956, National Bike Month is a chance to showcase the many benefits of bicycling — and encourage more folks to giving biking a try.